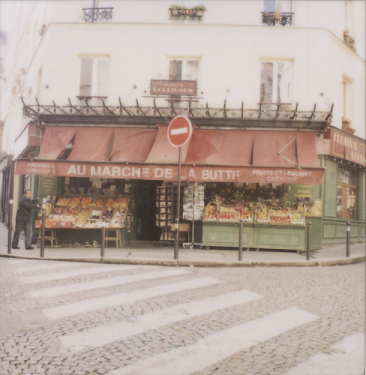 One of these days the movie 2 days in paris will be released on dvd and I seriously can't wait to see it! If the trailer that's up on youtube hadn't yet convinced me, the fact that it's situated in Paris would have easily done the trick. ( ah here we go again, yet another 'I adore the french and everything France related' post. For some reason I just can't refrain myself from going there. It's a disease, please find me a french doctor, pronto!)
At the top of this post I added one of Danske's beautiful polaroids of Paris.
If you haven't done so yet, you should totally visit her blog, trust me it's worth the click, her photographs are the most wonderful polaroids I've ever seen. They totally make me want to spend a ridiculous amount of money on some polaroid cassettes myself. If I knew where to get them that is. I actually have 3 polaroid camera's, all without film and yet I have never made a single photograph with either one of them because I can't seem to find a place where they actually sell cassettes. So if anyone knows where to get them, preferably online, please let me know!
And for those of you asking where my shoes in the previous post are from, I ordered them at gojane.com