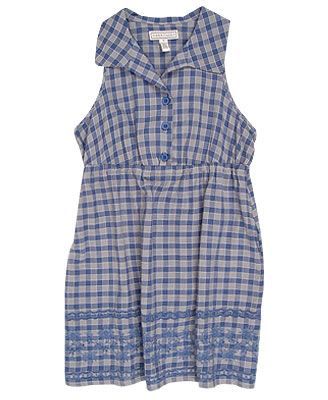 Today I ordered this plaid dress from Forever 21. Although it's not as brilliant as the one I was opting for first, which was
this wonderful plaid dress
from Isabel Marant, I think it does come rather close. The buttons seem a bit out of place though but I suppose replacing them with some non blue ones shouldn't be too difficult.

Despite my current enthousiasm, I wasn't really sure about the dress at first. You see, for these last few months I've been kind of stuck in this 'let's buy nothing but basics in neutral colours'-phase and this was, obviously, keeping me from buying anything with a print. I wasn't pleased with this, but I didn't really know what to do about it. Recently I've come to realise though that the only way of getting out of it is by buying something a bit more exciting. Or as Oprah would say, get out of my comfort zone. (yes I have been watching her show a lot lately) It's still miles away from a vibrant poison green pair of skinny jeans, and thank god it is because those should be banned, but I think it looks very nice and summery!
And hopefully it will encourage me to think outside of the basic dressing box.